Hi everybody!
Help me please solve the problem. Use stor2rrd for monitoring storage systems and SAN switches.

After adding all the switches to monitoring, there are 26 of them in total, 2 switches are not in their fabric.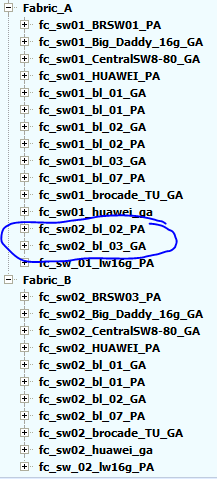 [lpar2rrd@xorux stor2rrd]$ cat etc/san-list.cfg
#
# SAN configuration file. All SAN switches must be listed here
#
# <switch IP or hostname>:<SNMP community string>:<BRCD|CISCO>:<fabric name>
# <fabric name> will be used in the GUI for Fabric aggregated graphs
# use it on ONE switch in the each fabric!!!
# <SNMP community string> is usually set to string "public". In this case you can leave it blank.
#
# GUI will show the real name of the switch regardless what name or IP you use here
#
# example (note each fabric alias is just once on arbitrary switch in given fabric!!!
# It is not necessary to put fabric alias on each switch in the fabric)
#172
.32.216.10::BRCD:Fabic_A
#172
.32.216.11::BRCD:Fabic_B
#172
.32.216.13::BRCD:
#172
.32.216.14::BRCD:
#172
.32.216.15::BRCD:
#
# Define your SNMP port If you using another then default 161
#SNMP_PORT=161
#
#
# Brocade Network Advisor (BNA)
# <BNA IP or hostname>:<port>:BNA:<API user>:<encrypted password>:<backup BNA node IP or hostname>
# to encrypt password use: perl ./bin/spasswd.pl
# 192.168.1.1:443:BNA:stor2rrd:IT5gYGAK:192.168.1.2
10.145.151.178::BRCD:Fabric_A
172.17.36.131::BRCD:Fabric_A
10.200.205.151::BRCD:Fabric_A
10.200.205.220::BRCD:Fabric_A
172.17.36.133::BRCD:Fabric_A
10.200.205.123::BRCD:Fabric_A
10.200.205.115::BRCD:Fabric_A
172.17.36.161::BRCD:Fabric_A
172.17.36.223::BRCD:Fabric_A
10.200.205.43::BRCD:Fabric_A
172.17.36.82::BRCD:Fabric_A
172.17.36.139::BRCD:Fabric_A
10.200.205.168::BRCD:Fabric_A
10.145.151.177::BRCD:Fabric_B
10.200.205.152::BRCD:Fabric_B
10.200.205.124::BRCD:Fabric_B
10.200.205.116::BRCD:Fabric_B
10.200.205.221::BRCD:Fabric_B ### this
172.17.36.222::BRCD:Fabric_B
10.200.205.42::BRCD:Fabric_B
172.17.36.83::BRCD:Fabric_B ### and this
172.17.36.132::BRCD:Fabric_B
172.17.36.134::BRCD:Fabric_B
172.17.36.140::BRCD:Fabric_B
172.17.36.162::BRCD:Fabric_B
10.200.205.169::BRCD:Fabric_B