RRD Filesystem usage graphics for Hitachi NAS
Hi all
First for all, thanks for this tools.
I have a question regarding some kind of usage graphics that I not found in the stor2rrd tool.
If you can see in this image, is possible to review the total usage capacity for the Hitachi NAS appliance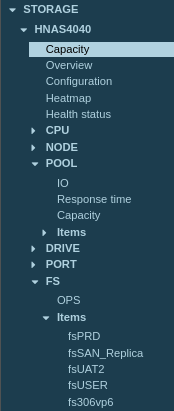 In addition to this graph is possible to see the 
OPs per filesystem. 

BUT, I cant locate a section to see the
usage capacity per filesystem
In other words, an RRD graphic that can show this kind of information...

This information was obtained in a traditional way.
Thanks for all for your time.
Regards
Victor Sina
Comments